TURN CONVERSATIONS
INTO CONVERSIONS
QuBot is your reliable assistant ready to communicate with clients via voice, text or menus, with human-like behavior. Entrust the dialogue with your clients to trained professionals!
Do you want to create smart chatbots for all the popular mobile and web channels?
Our QuBot platform defeats the complexity by understanding human needs, and our team helps you to build the best chatbot experience for your customers. We provide the turnkey solution and step-by-step support with the integration of your business process into bot service.
Compare prices

Drive Sales
New opportunities for your business to grow sales, sustain differentiation, and maximize profitability.

Get More Leads
The ability to engage prospects more effectively through the selling process is a primary benefit of AI chatbots.

Reduce Costs
The ability to provide round-the-clock efficient support, to increase the customer satisfaction and to reduce your costs.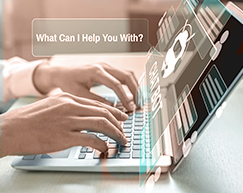 A customized chatbot assistant for your business
We provide the business analysis for optimal adaptation and integration of smart bots into your business. The development stage doesn't require coding or technical skills from your side. We provide a full stack from idea to deployment, and are ready to implement your vision or customize a ready-made solution for you!
Analysis
Creation
Success
We help you make every step in your smart chatbot journey confidently. We share our expertise in implementing AI assistants and provide your organization with an integrated conversational solution designed to effectively achieve your goals.
We build a solution that solves your unique business problems. Every company is different, so are the solutions we build for our clients. We adjust to your business goals, client base, and deliver the best possible results.
We help you launch the smart assistants on all the channels and languages used by your clients. Analytics, feedback, and learning from real-world experience are indispensable tools for building the system with high user satisfaction level.
Our Chatbot Gallery
Browse a gallery of select smart bots that cover a wide range of industries, communication goals and dialog depth. This is only a small sample of what is possible to create and employ to the benefit of your business.

Order Food
Start taking instant orders from your customers using the popular messenger platforms. Our QuBot can be customly programmed for restaurants and food outlets, it will interact with your clients and facilitate the ordering process.
Chat with me

HR-Assistant
Helps your recruitment managers at the first stage of the recruiting process. With HR-Assistant the Human Resources department can free resources and energy from data management tasks and use them to manage people.
Chat with me

Shopping List
Shopping bot is just one example of an easy and intuitive way to organize and support various lists and keep track of completed tasks. It is minimalistic, extensible and easy to use, it keeps your grocery shopping list at hand and makes shopping a pleasure.
Chat with me

Service station assistant
Our chatbot will help you to simplify service registration, provide the prices, automatically answer standard questions, collect detailed information about malfunctions, even before arriving and keep clients informed of events, offers. As a result, it can save staff time for more important tasks.
Chat with me

First Communication
With QuBot start instant conversations with your visitors to create a true connection. Use chatbots to better understand your customers and get feedback to help your business grow.
Chat with me

Trivia game
We created a special chatbot, which allows users to try their luck and knowledge in a series of trivia questions for a virtual prize. So, if you are determined to make a million virtual dollars fast, this is your chance. Remember that your intelligence and knowledge are the key to success. Let's play!
Chat with me

Health and Wellness Advisor
This virtual advisor can be trained and customised for different domains, and can help your clients set their health goals, establish and adjust the current nutritional habits, understand your lifestyle choices, and suggest a scientifically grounded detailed nutrition plan based on the collected data.
Chat with me

Virtual Assistant
Provide your existing and prospective clients with an always-on phone virtual assistant to facilitate booking, support, and appointments, with no app downloads or logins necessary
Chat with me

Blackjack: The game
Blackjack is the most addictive and affordable card game for anyone who likes to try their luck. Our chatbot is a smart partner who is always online and ready to start playing. Mostly, games are turn-based, while AI chat is a perfect medium to realize a fluent game experience. Take your turn!
Chat with me
Choose Your Channels
Connect with your existing and prospective clients effortlessly, no matter which channels they prefer. Our chatbots provide a unified user experience on the most popular messaging channels.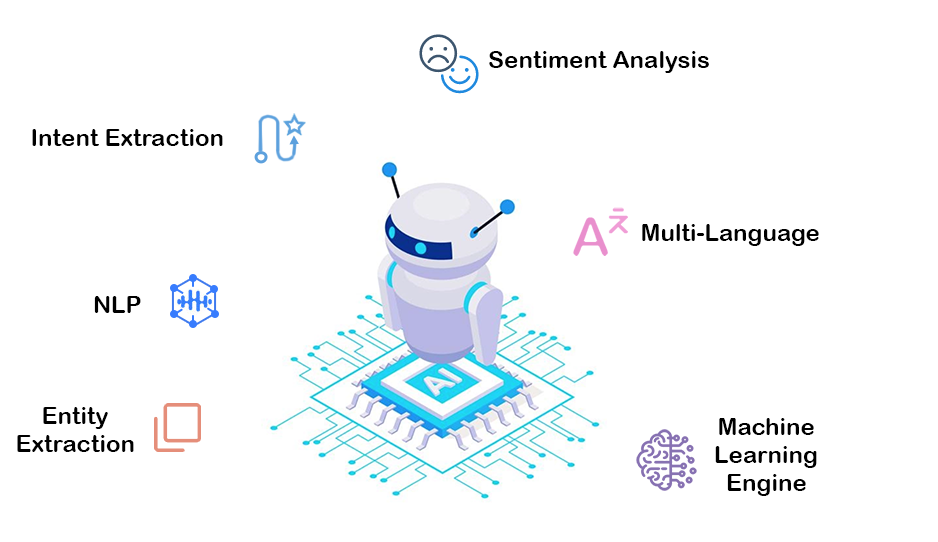 Implement the Best Practices & Technology for your Chat Assistant
With our multi-channel platform, our tools support the entire lifecycle of a bot, from developing and testing to deploying, publishing, hosting, tracking and monitoring. QuBot uses the most advanced technology and services and includes NLP, ML and voice recognition. The Natural Language Processing (NLP) technology quickly identifies frequently used words and helps your customers with simple inquiries. Voice recognition is used as a more convenient way to maintain a dialogue with a person using an ordinary voice. The platform provides high-capacity services, scalable and flexible tools for analyzing growth. Your operators gain more time to handle complex issues.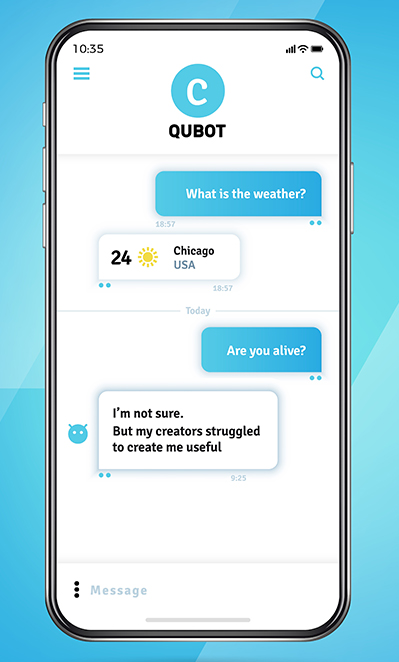 Mobile experiences your customers love!
Connect with your audience on their own terms – when, where, and how they want. It's easy to scale globally with QuBot!
When your customers need help, they want to find answers to their questions, fast. So, give them a better way - resolving questions and issues on their own by automating up to 70% of the work load via customer self-service solutions.
Don't wait for customers to ask you for help. Instead, use customer self-service solutions to anticipate their needs at every step along the purchase journey.
No one wants to wait hours (or days) to get a response from customer service. The truth is, that you need to be ready to support them at that exact moment. QuBot solutions can provide them with a quick, easy, and reliable way to find answers to frequently asked questions on their own.